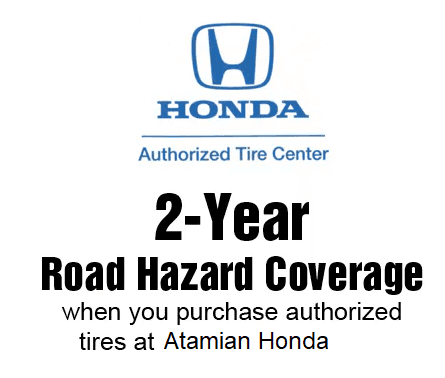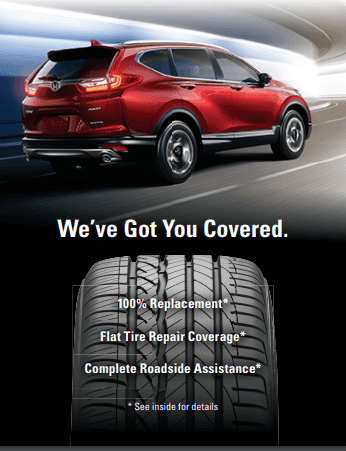 About the Program
The Tire Road Hazard Program provides a limited warranty for the repair or replacement of any Covered Tire which during the Coverage Period, becomes unserviceable because of damage caused by impact with a Road Hazard. Cosmetic Damage is specifically excluded. This limited warranty applies only to losses that occur in the fifty (50) United States.
To be eligible for Program Benefits, you must be the original purchaser of the Covered Tire, and the Covered Tire must have been on the Covered Vehicle at the time it was damaged. To qualify for Program Benefits, you must comply with all rules of the Program.

Where Can I Obtain Service For My Covered Tire?
Bring the Covered Vehicle and Covered Tire(s) to Atamian Honda or any Participating Dealer enrolled in the Road Hazard Program that sells the same type of Covered Tire. You can obtain a current list of the Participating Dealers by visiting www.nsdmc.com/rhp or calling 866-588-0743.

What If I Need Assistance With A Tire Change, Tow, Battery Jump Or Lockout?
In the event Your Covered Vehicle has a flat Covered Tire in the United States, Nation Motor Club, LLC will send a service provider to change your flat tire with your good, inflated spare. In the absence of a good spare, your Covered Vehicle will be towed to the nearest Participating Dealer up to a maximum of fifteen (15) miles. Additionally, battery-jumping and lock-out services are provided for your Covered Vehicle. However, roadside assistance shall not be provided more than once in each 72-hour period. For complete details, stop by Atamian Honda!